West Michigan Waste Treatment
We can respond quickly to any emergency involving non-hazardous liquids or sludge.
Why Choose Liquid Industrial By-Products Inc?

SERVICE ORIENTED
Emergency response provides security 24 hours a day.
Limited to current customers and active approvals
CONTAINED FACILITY
New facility built in 1996 is totally contained with a 60-mil liner under the entire structure and bonded to the sidewalls.
$5,000,000 POLLUTION LIABILITY INSURANCE
On both our facility and trucking fleet.
VACUUM EQUIPPED TRAILERS
Pump faster than ordinary gear pumps and allow for the removal of sludge.
PRE-DISCHARGE TESTING
After treatment every batch is tested prior to discharging. This protects you, the city's wastewater treatment plant, and us.
LOCAL WEST MICHIGAN BUSINESS
We service all of West Michigan & beyond typically with same day or next day availability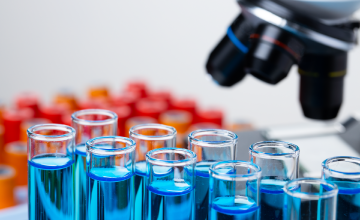 Treatment
LIBP follows strict waste acceptance procedures that protect your company. Recycle your waste with us. Over 16 million gallons processed every year.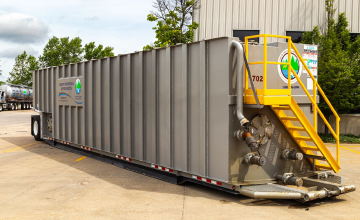 Tank Rental
LIBP offers 275 Gallon totes, 20,000 Gallon frac tanks, trash pumps, and hoses for rental. We provide site delivery.
Cleaning Services
LIBP provides a variety of cleaning services to make sure you are up to regulatory standards. We also offer emergency spill cleanup. If you want it clean, you want Liquid Industrial By-Products!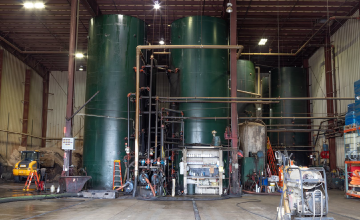 Waste Management
Your waste management is handled with LIBP Waste Audit & Survey, Analysis & Treatability Study, Waste Consultation, and 24 hour Emergency Spill Response.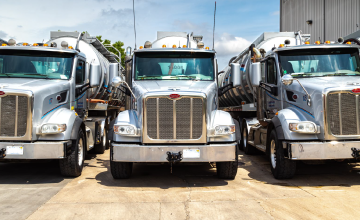 Transportation and Labor
Whether you need Equipment or On-site Pumping. LIBP will provide the transportation.

The Liquid Industrial By-Products Inc.
Our 14,325-square foot facility was built in 1996 to exceed the Michigan EGLE design requirements. The secondary 60 mil containment liner under the floor of the entire building was not required by the Michigan Department of Natural Resources, but serves as an added protection for the environment, for the company and for the client. The building has a 65 foot impervious clay base, is totally contained and is also pollution liability insured. The structure contains eight 21,000 gallon disposal tanks and five truck docks inside where the industrial waste trucks are unloaded.




Frequently Asked Questions.

What are Liquid Industrial By-Products?
Many different types of entities, including government agencies, produce
unwanted, discarded liquids and sludges that are regulated as liquid industrial byproducts under Michigan's waste regulations. More information here.
Do you take hazardous wastes?
We strictly take only NON-HAZARDOUS wastes. It is our priority to make sure that any waste that we haul is strictly NON-HAZARDOUS.
What tests do you do to determine if a waste is non-hazardous and acceptable for Liquid Industrial By-Products to haul?
At LIBP, we use three tests to deem if waste is non-hazardous and acceptable. Laboratory Testing (Analytical), Safety Data Sheets (SDS), and Generator Knowledge.
What forms do I need to fill out to get my by-product approved for you to take?
After our by-product has been approved to take, how long is the approval good for?
The profile is good for one year and will be reviewed annually to determine if any changes have been made to the process or the material. If there have been no changes, the profile can be extended by one year. This is valid for up to 5 years. The analytical testing data is good for 3-5 years and, after that time must be re-tested.
What paperwork is required for the shipment of non-hazardous liquid industrial by-products?
We will provide the shipping document for you, and Liquid Industrial By-Products primarily uses Non-Hazardous Waste Manifests as our shipping documents. Generators are welcome to provide their own document if they prefer.
A shipping document can be a log, invoice, bill of lading, or other record documenting the shipment of liquid industrial by-product, and the shipping document can be either written or electronic. A Uniform Hazardous Waste Manifest is a form of shipping document that may be used to meet the law. However, the use of a Uniform Hazardous Waste Manifest is no longer required for shipments of liquid industrial by-product.
Required information on the shipping document are:
The name and address (site or mailing) of the generator
The name of the transporter
The type and volume of liquid industrial by-product in the shipment
The date the liquid industrial by-product was shipped off-site from the generator
The name, address, and Site Identification (Site ID) number of the designated facility
Where do I mail my copy of the manifest? Where is my signed off copy of the shipping document?
Michigan no longer requires the generator to mail a copy of the shipping document anywhere. Generators need to obtain proof that the shipment has been received by the designated facility. This can be a signed-off copy of the manifest, an email, or other form of communication. Liquid Industrial By-Products will send back the signed-off copy of the manifest to the generator via email or physical mail depending on the generator's request.